About us
Our company
We have been operating for 23 years now in the IT world, covering the whole Italian market as sellers, installers, computing producers and system integrators.

NT was founded with the intention of putting together professional figures coming from various work experiences and IT knowledges. The technical assistance and services done on behalf of the biggest international producers, during the years have transformed our company into a reference point, commercially and technically speaking, for some of the most known national companies.
We collaborate with big brands
In the retail context, we work with the biggest brands of the IT market: Intel, Supermicro, HGST, Microsoft, VMware, Cisco, HP, Falconstor Software, Veeam and so forth. Here, how we do it: we always proceed installing a direct technical and commercial relation with our producers. This makes us participants of the whole project and of the future plans, allowing us to test the solutions' preview prototypes in our labs. In this way, our customers can count on an immediate pre- and post-sale service based on a deep technical knowledge.
Our clients are our best business card
Some of our solutions are used to compute and archive data within Universities, big, small, medium and big companies, research Institutes and international telephone switchboards. We also take care of: outsourcing management and implementation of systems based on Microsoft/Linux servers, email backup apps, SAN and other virtualization servers, 3D Desktop Workstations plus devices in line with IT security regulations.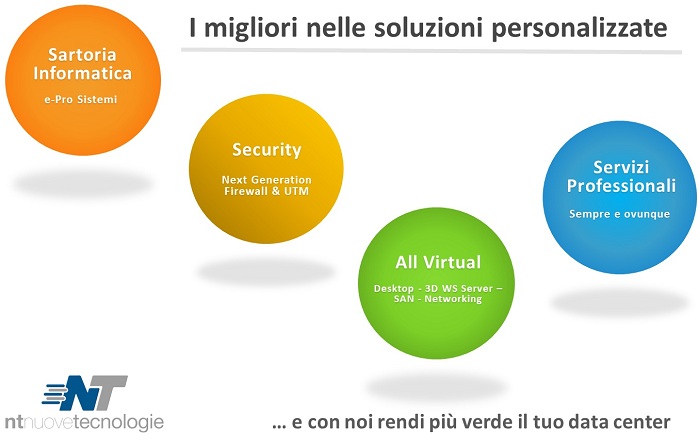 e-PRO
NT's production line
NT does not just mean IT products but also real production.
With our e-PRO line, we produce computers to be used in office spaces, powerful graphic workstations with high 3D performances, multiprocessors, blade and storage servers.
We manufacture SAN and NAS solutions for business continuity, High Performance and "Petabyte Rack" based on different software defined technologies ideal to manage big data loads, SAN consolidation with active mirroring between heterogeneous storage systems plus back up solutions on Virtual Tape Library and replication clusters.