IT-to-REMIND #ARCHIVING and DATA #BACKUP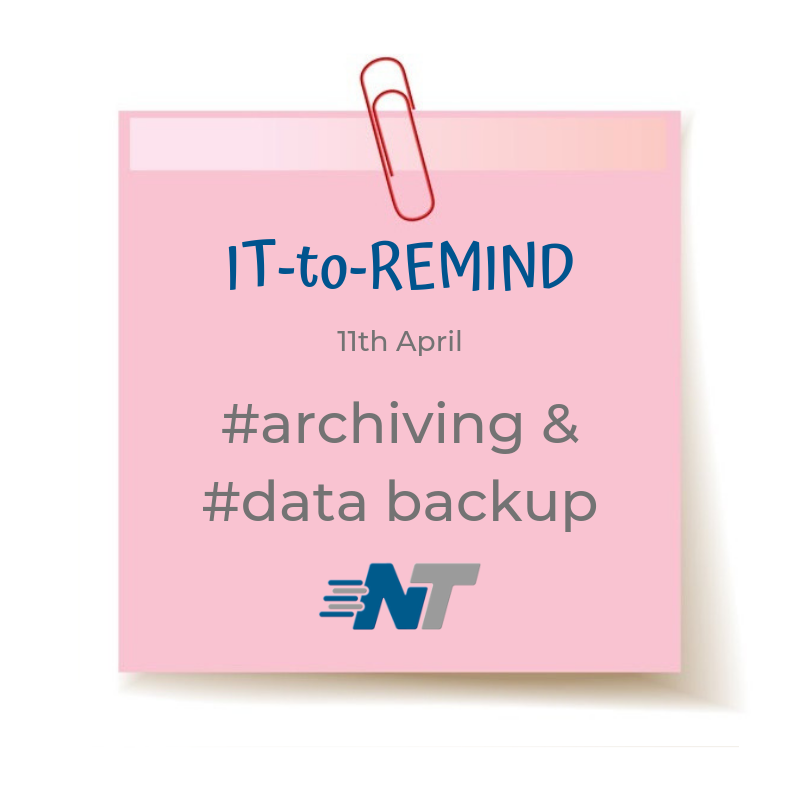 ARCHIVING AND BACKUP:
ARE YOUR DATA SAFE?
To secure and guarantee storage, elaboration and re-programming of increased quantities of info and data (sensitive or not) is becoming a challenge for small, medium and large companies. The same adjustments to the new GDPR rules have imposed the achievment of growing levels of reliability; the ideas we had about our data protection has changed: now the attention is on customized approaches, tailor made on every need.
Studies made by the IDC (International Data Corporation)talk clearly: almost 90% of the companies (healthcare, finance, public administration, retail, entertainment, import/export, food ...), has suffered violations to their informative heritage. Therefore, the necessity of investments in safe data strategies to avoid informatic disasters and consequent effects on the infrastructure and on the overall operativity, seems obvious.
We distinguish between:
data backup: storage supports to preserve data and info useful to the business. The backup can be made within regular ranges on hard disks or cloud environment
data archiving: secondary storage supports to store data that could require restoration over the years.
In a context were cloud computing is becoming more and more used (users connected to a provider have the opportunity to elaborate, archive and restore data while leaning on an Internet browser), the ideal action plan pro security and pro operativity, connects digital storages to analogic storages - NAS & SAN. If you make the cloud complete with the use of mass storage devices, you will reach maximum levels of security to preserve your data, maintain your costs and all the risks of volability.
How to proceed? An IT approach to protect data, devices and systems, considers the elaboration of a backup plan that defines: what to save (data, files, images ...) with which supports and frequency, following which procedures for compression and archiving paths. A good back up is made of physical and logical processes to make redundant ("in copy"), data and info compromised by external threats: manipulations, cyberattacks, thefts and malware.
Here is a list of backup's advantages:
resources' optimization
greener infrastructures
reduction of: downtimes, costs (operative and managerial), risks and impacts on the company structure, starting from the IT department
better performances
redundant info ready to be used
DataCenter Always on Business
To protect your IT infrastructure and your data, our NT team suggests you Veeam, society specialized in the software development for backup, disaster recovery and virtualizazion in VMWare and Hyper-V environments, integrated with their own support. Benefits? Punctual monitoring that allows you to take action long before a problem evolves into a crippling issue plus, opportunities - for data and apps - to reach RTPO objectives (Recovery Time and Objective Point) in less than 15 minutes. Results? Gurantess of prompt operative recovery, safeguard, data use, protection and info visibility.
Contact us: