IT-to-REMIND #CUSTOMIZATION e-PRO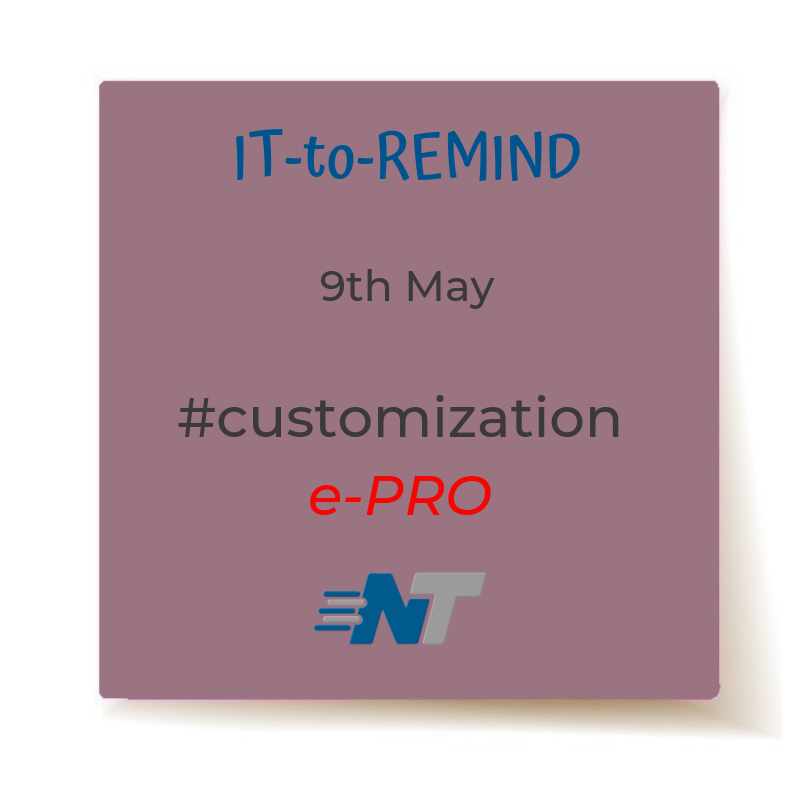 CUSTOMIZATION ACCORDING TO NT
FOR EFFICIENT AND SAFE PERFORMANCES
TO CUSTOMIZE : create, starting from your own expectations and needs, a product/service.
The idea can be easily applied to the IT field.
To equip your own business with the most advanced technologies is necessary to guarantee constant performances, operativity and efficiency.
Why should you customize?
The need to create studied solutions comes from:
growing workloads;
the constant proliferation of data (created and in circulation)

;

the necessity to be faster, more productive and performing in the offered solutions and in the on-time analysis of the quanityt of produced info;
the importance of being flexible during the implementation of dynamic and innovative solutions (virtualization server and client, hyperconvergence ...);
the need of more archiving spaces and computing capacities;
the necessity of guaranteeing business continuity and to work while thinking about disaster recovery.
A tailored solution allows you to:
upgrade with less investments and guaranteed results;
expandability and scalability

within the IT infrastructure;

constant

productivity

;

save money

, energetically speaking too;

components produced by vendors that differentiate themselves in terms of quality and innovation (have a look at Intel's new scalable processors https://www.ntonline.it/it/nuovi-processori-scalabili-intel)
What should you customize?
Due to the productive line e-PRO, you can customize your IT infrastrucure; from small nuc to a big datacenter. In particular, you can:
transform your datacenter into a powerful and innovative space;
customize PC to be used in your offices and adapt them in line with the needs of space, archiving and performances;
make your graphic workstations, ideal spaces for professional works, modelings, 3D animations, video making ...;
lwork on a multiprocessor server, blade, storage, NAS and SAN solutions for business continuity ...;
take advantage of our assistance and guarantee for 36 months included;
be sure to operate on a performing machine due to our assembling services, tests and deliver as soon as we are 100% sure that the solution is complete and ready to be used.
YOU CAN SET UP YOUR OWN SOLUTION HERE https://www.ntonline.it/it/prodotti/configuratori-area-epro
WRITE US IF YOU ARE INTERESTED IN RECEIVING MORE INFO