IT-to-REMIND #DESKTOPVIRTUALIZATION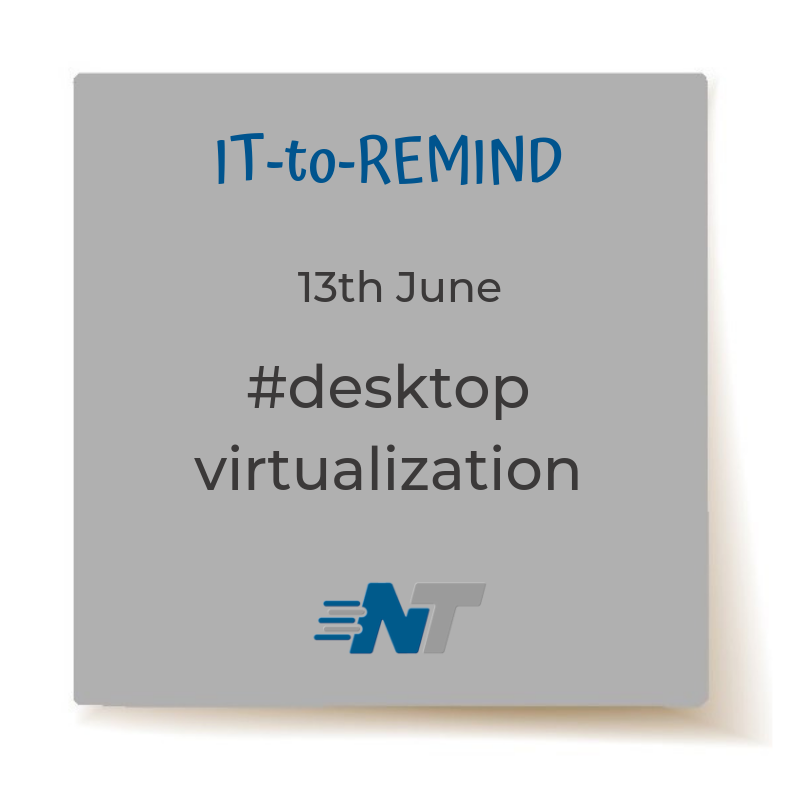 DESKTOP VIRTUALIZATION (VDI)
for a pc at your disposal
anytime, anywhere and from every device
A virtualized desktop is a working environment where desktop, operative system, applications and programs traditionally connected to the hardware, lie in a virtual environment.
The behaviour of a virtualized desktop coincides in every way with that of a physical machine and of all its elements - CPU, storage ...
VDI PERSISTENT vs VDI NOT PERSISTENT.
VDI persistent: you have a pool of customized settings that stay constant even during the following login.
VDI not persistent: you have a uniform pool of desktops where, differently from the persistent VDI, the working environment go back to its original state with every logout.
HOW DOES IT WORK?
The user interacts and operates in a virtual environment where interface and user-experience stay identical to the ones in a physical environment.
ADVANTAGES FOR YOU
you configure all the

VDI

on a single physical infrastructure:

you spare in terms of purchase, configuration, update and maintenance in the hardware components connected to the client;

you have

workstations

with an approximately unlimited duration;

the

interface

is the same. You just have to login with your credentials;

you login even from

remote

,

in every moment

and

from every device

, fixed or mobile;

optimized use of the

resources

;

streamlined

manual activities and processes;

centralized

management

;

more

security

;

you work from a

scalable and extensible platform

, therefore editable according to your needs;

better ROI

thanks to a versatile distribution of the resources.
Desktop virtualization is the ideal strategy to satisfy the evolving business needs and to guarantee resilience, control and constant management. If mobility is the keyword, virtualizing it is not mandatory for you to operate from a fixed workstation. Anytime and anywhere fruition, to be constantly performing. This is the concept that makes the VDI infrastructures more and more interesting.
With VMware Horizon, for example, you transform your traditional IT infrastrucutre in a simple, flexible and scalable on-demand environment.
If you would like to try this solution,
you just have to contact us writing to info@ntonline.it