IT-to-REMIND #DATAMANAGEMENT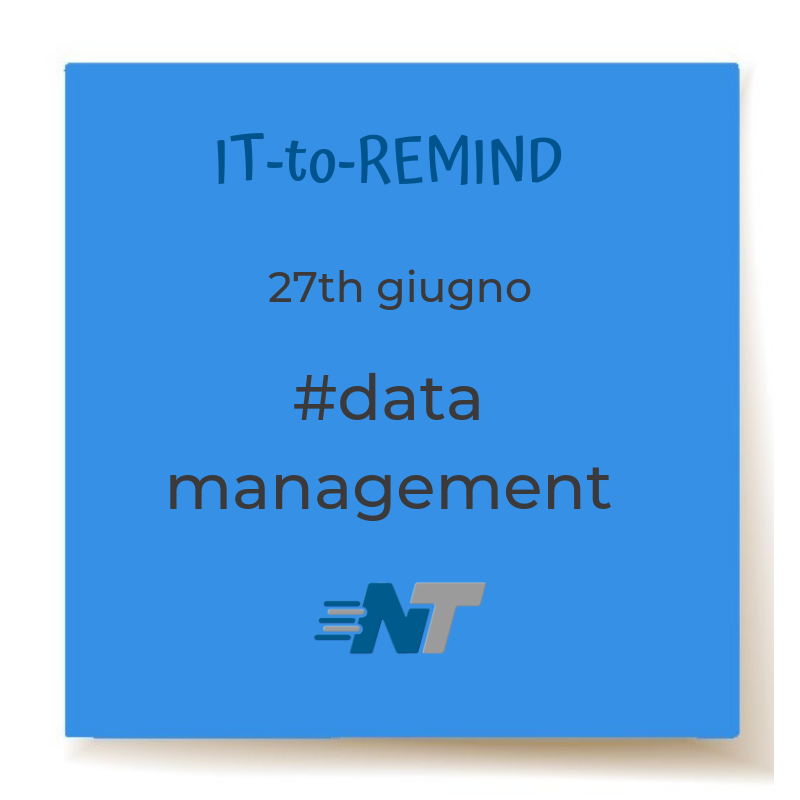 DATA MANAGEMENT
How do you manage your data?
A company out of five doesn't invest in security. The general behaviour would lead to take action just in case of need.
Productivity and responsiveness with no interruptions are guaranteed if you collect info about the actual situation, anomalies and needs of the interlocutors. Among the corporate policies (Disaster Recovery, Business Continuity ...), indeed, a studied pro security strategy, allows you to be operative in conditions of full integrity of the business assets, technological and not.
Whenever we talk about business security, we think of:
identification of the critical issues - how to manage them?
monitoring - who has access to our data, in which ways and from where?
risk management - do you have a plan B to activate in case of emergency?
If you implement a data protection plan, you can:
protect your existing data (access, use, trasmission ...);
guarantee their integrity (information need to be constant during the time, without being modified or violated);
ensure confientiality (data privacy so how to avoid unauthorized accesses).
You just need few steps to protect yourself:
identify the data you need to safeguard - which ones and where can you find them?
keep yourself informed - news from the GDPR?
make a list of people with access to confidential information, in order to facilitate the individuation of the undesired logins;
think about the risks that could take place and compromise the data at your disposal in case of errors, malfunctionings or thefts;
do regular backups and updates.
For an optional data management, ensuring operativity and great results, NT team suggests:
NETWRIX
With a unified platform, you classify relevant info, document your data with audits in conformity with the existing rules, analyze strange behaviors and act proactively in case of emergencies.
https://www.ntonline.it/it/netwrix
VEEAM
For backup software solutions, Disaster Recovery and virtualization in VMware and Hyper-V environments. With Veeam, you make real the Always On Enterprise, to be constantly available, 24 hours per day, 365 days per year.
https://www.ntonline.it/it/veeam-availability-for-the-always-on-enterprise
QSTAR
For your enterprise data, to manage and to archive.With QSTAR solutions, you optimize the the assets of your data, increase security levels and drastically reduce costs.
https://www.ntonline.it/it/qstar
Do not hesitate to contact us to study the most appropriate solution for you or to ask for any info.
Feel free to send us an email to info@ntonline.it