IT-to-REMIND #SKYPEFORBUSINESS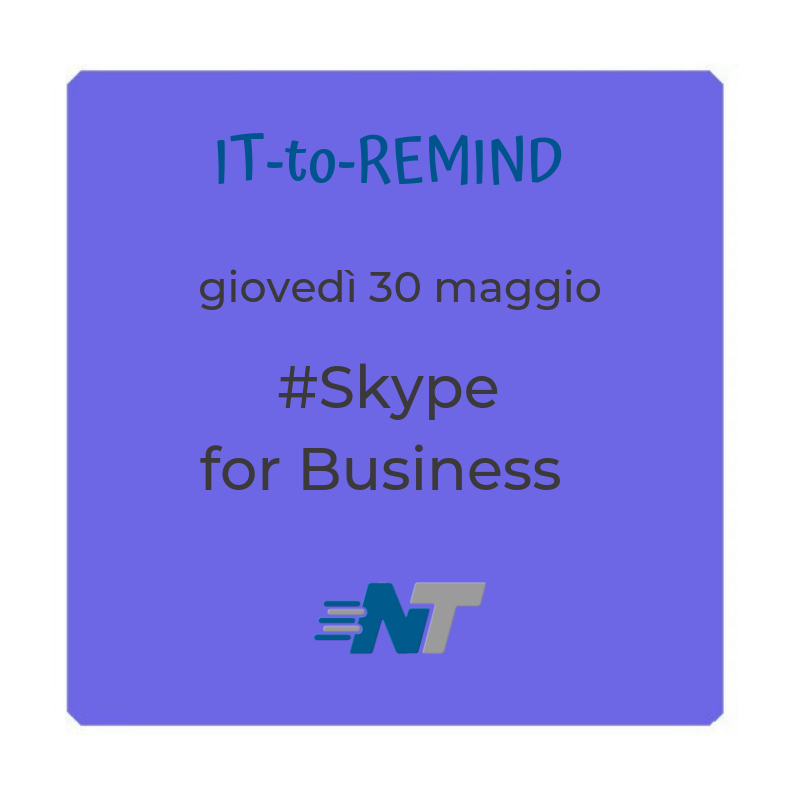 SKYPE FOR BUSINESS

with
VMware Horizon Virtualization Pack
virtual desktop and unique experiences from every place and device
The partenership between Microsoft and VMware Horizon created Skype for Business for user-experience and productivity optimized and costs connected to the use, minimized. Audio and video directly depend on the endpoint for a collaboration One-to-one or they are entrused to a multipoint control unit.
The idea comes from the growing use of businesses of Skype for Business as unified platform of communication for guaranteed operative results due to online messages, audio/video calls and meetings. This Skype version is an integrated part of the subscription to Office365 and is related to the necessity of narrowing the quantity of resources in RDSH and VDI environments.
HOW DOES IT WORK? The service can be used with a virtual desktop session; the creation of your own version is possible while respecting policies that allow you, among the various options, to diactivate USB peripheral devices when the user is in potentially dangerous spaces.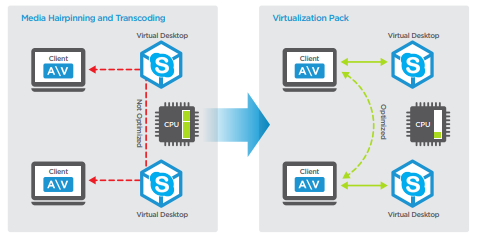 FEATURES
Calls, online meetings, instant texts, emails ... One-to-one or multiple via http proxy server

;

Microsoft Office Integration to call from Word, Outlook, Share Point …;
reports and statistics to monitor the quality service;
VMware Just-in-time Management

to guarantee - simustaneously and not - via single endpoint, the use of all the functions of a desktop;

management of the calls as a

delegate

and

redirectioning

to mobile devices

;

authentication

via loudspeaker and smart card

;

calls and video calls Point-to-Point;
remote connections and calls via Edge Server;
opportunity to temporaneously interrupt, transfer, resume and silence the calls;
customization of the basic settings (ringtones, news ...).
BENEFITS
data traffic

within the datacenter

reduced;

quality

video

and

audio, even if we are talking about a Virtual Desktop;
threats

against the correct functionng of the solution ...

Removed

;

management of App and software, centralized and easy;
scalability;
data and app resilient;
the data heritage of the user (file and info) is kept safe in the datacenter, even if the functions of the solution are accessible via virtual access to the platform;
user experience

is made powerful thanks to a collaboration among the device and the online platform;

less total costs: i processi media hanno luogo fra gli endpoint, contribuendo a un alleggerimento del carico dell'intera infrastruttura;
security

of personal data and info;

Blast Extreme Adaptive Transport to automatic adjustments to the network conditions. You are constantly operative, even in case of failures and latencies.
MINIMAL REQUESTS FOR ITS USE
VMware Horizon Virtualization Pack automatic installation

as essential part of

Horizon Client for Windows (4.6 & following editions), Horizon Client for Linux (4.6 & following editions) and Horizon Client for Mac (4.6 & following editions);
VDI (on premise/cloud), persistent and non desktop and

remote desktop services

.
If you are curious about it,
you just have to write us your request to info@ntonline.it to set up together this solution!