IT-to-REMIND #vSAN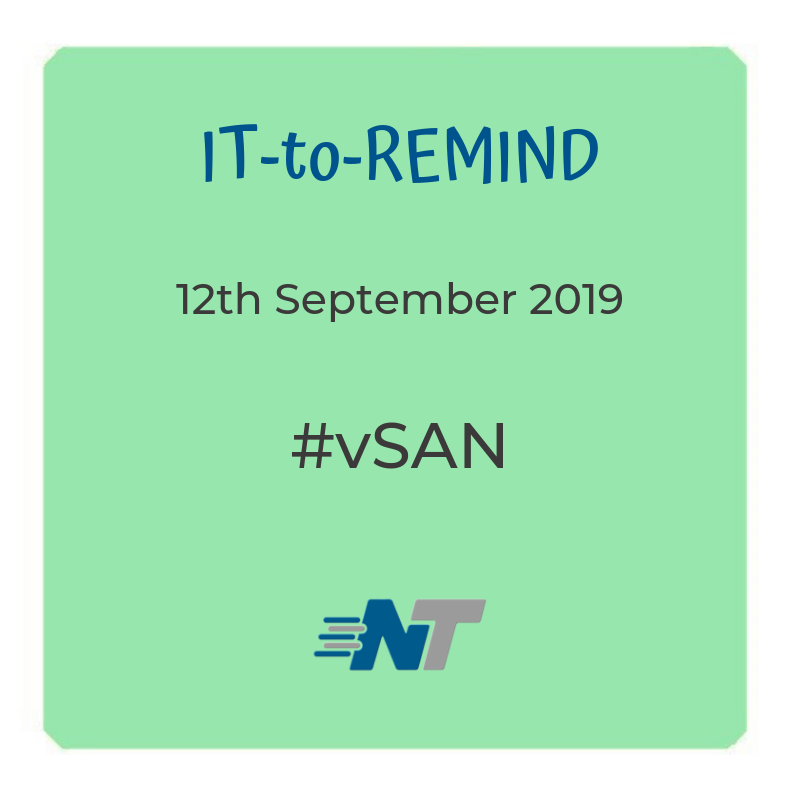 vSAN
High performances and easy scalability.
vSAN is a storage virtualization software created by VMware.
Due to its perfect integration with vSphere, it allows you to reduce costs and to accelerate the digital transformation, ensuring the business growth. Through a combined use of vSAN and vSphere, it is possibile to manage all the storage and elaborating operations increasing the simplification in the overall management and improving the security of the IT infrastructure.
vSAN doesn't need a particular hardware: every x86 server is compatible.
In this way, the use of your own hardware, purchased from your trusted supplier, is allowed. So costs are reduced too. Compared to the traditional SAN, indeed, the initial investment is reduced and the vertical and horizontal scalability is ensured. By exploiting all the potentialities of an hyperconverged infrastructure, it is possibile to automatically recover your storage spaces, to reduce the managing and maintenance costs of the whole infrastructure.
vSAN also improves the managing operations, simplyfing them. Storage policies are managed according to the workloads and not the hardware specifics. Services too are distributed more rapidly, releasing the IT personnel.
vSAN, with its particular flexibility, is ideal for:
business critical applications;
VDI (Virtual Desktop Infrastructure);
powering of the local performances;
Disaster Recovery.
In line with the version chosen, vSAN adapts to the needs of every business reality:
STANDARD - for hybrid environments with storage policies for every VM;
ADVANCED - for efficiency in the management of all the flash space;
ENTERPRISE - for extended cluster and software defined writing;
ROBO - Remote Office Branch Office;
VDI - Virtual Desktop Infrastructure.
We already implemented vSAN with different businesses for typology, needs and existing infrastructure, collecting favorable opinions. Each installation has been tested, implemented and managed together with the IT business personnel, in order to guarantee the maximum yield with the least number of possible unpredictable aspects.
In order to find the most appropriate version for your business asset, do not hesistate to contact our experts by filling out the form you find here below.